June 15th, 2005
For a flirty, feminine look:
Fashion Formula = Cropped Sweater + Dress + Heels.
Savannah Cropped Cardigan | $58 at
Anthropologie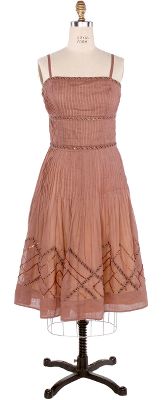 Isca Organdy Dress | $168 at
Anthropologie
"Round One" Leather Slingback | $99.98 at
Kenneth Cole
The outfit pictured above is especially friendly to women who could use some added visual leg length: the empire-waist silhouette combined with the cropped sweater makes the torso appear shorter and the legs longer. The end result? You appear to be taller!
How does this work? How tall you look is determined by how long your legs appear to be. When you visually lengthen your legs, you automatically look like you grew a few inches. A bit of fashion magic, from me to you.
For those tall women out there looking to minimize their height, switch out the heels for flats, and try a dropped waist dress that will make your torso appear longer and your legs shorter.
Entry Filed under: Ready Made Outfits,Women