Issue III of the Friday Fashion Hotlist: a compilation of some of the cutest and coolest stuff Style Intelligence Report saw out there this week.

This week, we're mixing it up with an embellished cardigan and one of the most mesmerizing striped men's shirts we've
ever
seen.
For women…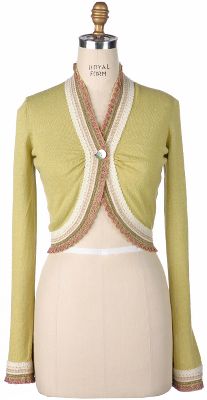 Villa Cardigan | $98 at
Anthropologie
One part prim and proper, and one part sassy, this cardigan will give a jolt of style to any wardrobe. The triple rickrack stripes of trim along with the mother of pearl button set this cardigan apart from the legions of other cropped sweaters out in the market.
And for men…
BDG Drive In Dobby L/S Western | $49 at
Urban Outfitters
Mesmerizing stripe placements make for an eye-catching look. Wear with caution: this isn't the shirt you want to be wearing when you're flying under the radar.
4 comments July 8th, 2005