October 4th, 2005
Why:
It's easy to wear, and ever-so-romantic
for those hot nights out.
We're all over…
Capelets
(Pictured: Gap Herringbone Capelet)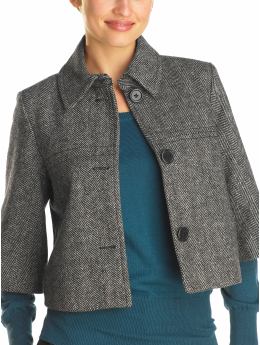 Why: They look incredible when paired with other
of-the-moment classics like oversized shades and tailored gauchos.
We're So over:
Tiered Skirts
Why:
We don't care if it's an Indian summer — The Prairie Look,
the Peasant Look, the Gypsy Look et al are all So Way Over.
We're So over:
Overpriced Denim

Why: $100…$200…$300…$400…
We declare: The buck stops here!
We're So over:
Shearling/Fur/Fur-inspired Boots

Why: Down Under, they're worn as house slippers. Enough said.
Entry Filed under: Trend,Trendscape,Trendscape,What's In and What's Out,Women