October 24th, 2005
Out of LA Textile comes four major trends for color and fabric:
Tundra
Colors: Greyed out colors, browns, blues.
Textures: Silky smooth fabrics, metallic finishes, brushed cottons and wools for a frosted look, botanical and crystal motifs for fabric prints.
Winter Blooms
Colors: Apple and emerald green, combined with blues and both light and dark purple tones.
Textures: Boucles and tweeds, especially in wool/silk and wool/mohair fabrications. Paper-like cutouts are achieved through laser cutting. Appliqués are botanical inspired, with leaves and flowers.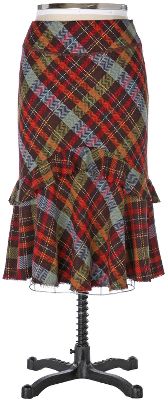 Indian Summer
Colors: Rich, autumnal tones of reds, golds, oranges, and leafy yellows are juxtaposed against dark smoky blues.
Textures: Folkloric prints are color yarn-dyed, patterned, and ombred with stripes. Patchworks and wood block prints will be seen along with subtly pinstriped denim and oversized lumberjack checks.
Woodland
Colors: Dark greens and blues combine with teal, ash grey, and a warm bronze.
Textures: Spongy surfaces reminiscent of moss, botanical-inspired fabric irregularities, and veining reminiscent of leaves, bark or wood grain show up in prints. Velvet is huge.
Entry Filed under: Men,Trend,Trend Predictives,Trendscape,Trendscape,Women