November 1st, 2005

Background on Black Coffee: Black
Coffee is the brainchild of designer Jacques van der Watt, who is known
in his native South Africa for his mysterious yet feminine creations.
Key Takeaways: Black
Coffee's collection made heavy references to traditional Japanese
culture such as obi belts, kimono-style dresses and canvas flats.
Color Palette:
Beige, taupe, black and white colors emphasized an Asian influence;
some of these muted colors were contrasted with rich hues such as
burgundy and red.


Silhouettes
: The

unusual cuts and lines of van der Watt's pieces helped to differentiate
the label from many others. Black Coffee truly caught our eye with
unusual takes on layering (a structured knee-length jacket paired with
a flowy, asymmetrical skirt) and shape (tunics with three tiers of
ruffles at the bottom).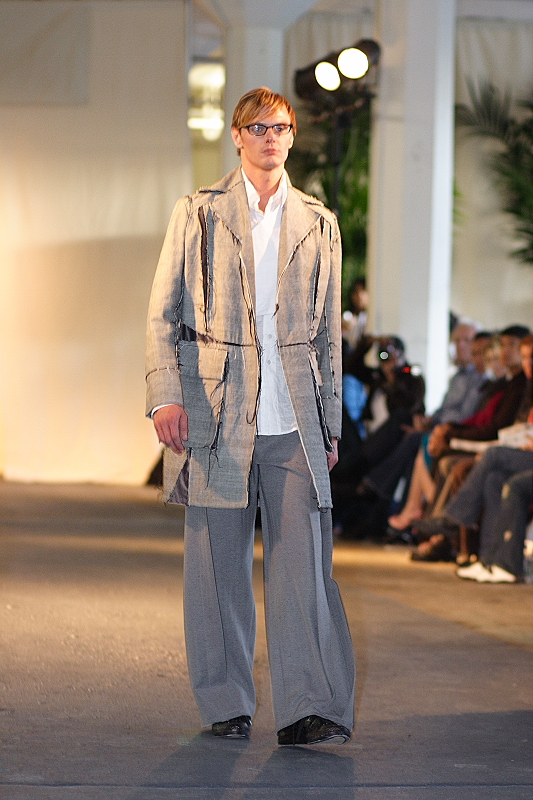 Photo Credit: Ling Kong
Accessories Report
: Canvas slippers on the women; wooden beaded necklaces; printed obi belts; necklaces with coin-shaped pendants.
What's Wearable
: Black Coffee proved that, despite overt ethnic references, this collection could still be wearable.
With this top, Black Coffee has truly gone full circle:
Entry Filed under: Runway Reviews,Runway Reviews,Trend,Women