December 14th, 2005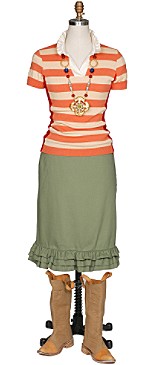 Just wanted to point out something cool that Anthropologie recently started doing: merchandising their clothes not only by item, but by outfit!
Under an "Ensembles" category, They've put together eighteen outfits in total, nine categorized under "High Art" and the other nine listed under "Contemporary Art.
We think it's a cool idea at it's core. We're very pro-ensembles, especially since we try not to buy garments without knowing they'll work with at least three different outfit combos. It's this spirit that's behind our Ready Made Outfits: Women | Men).
What do you think about Anthropologie's ensemble feature? What do you like? What could they have done better?