January 19th, 2006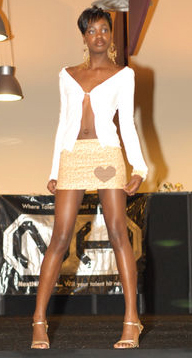 Last weekend, Omiru attended a fashion show and anti-violence rally produced by P.A.R.T.I. Squad, or Positive Alternative Recreational Teambuilding Impacting Program. Known for cultural diversity training and mentoring programs, P.A.R.T.I. Squad dedicated the evening to the memory of Irwin Dillon, a P.A.R.T.I. Squad volunteer who lost his life while reportedly trying to break up a fight last December.
The style of the night was unmistakably Urban. Common
themes throughout the show included halter tops, deeply draped
necklines, and miniskirts. Silhouettes were generally body-conscious
and tightly clung to the models' curves. Colors, like that of the Spring 2006 collections, tended to be neutral, with forays into bright turquoises, blues, greens, and oranges.

Designers featured in the show included Felix Harris (Minoca), Latoya Skinner (Chan.nel Karama), Cynser (Baysik Clothin' Co), Nikki D Vine (L.I.P. - Live in Peace), Keana Dollar (High MaintNance), Vladimir Ulyashin (Body Wear by Nina), Dominique Giselle (Giselle), and Osofo Clothing store. Our friend, designer Goldie Chan of goldiechan clothing headlined the show.
"The spirit and dedication behind the show was truly noble. I'm glad to have been a part of it," said Chan.
Photo Credit: Daniel Kwan

Entry Filed under: Runway Reviews,Runway Reviews,Trend,Women