January 27th, 2006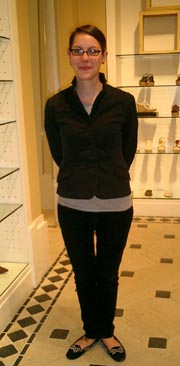 Name: Stefanie
Found: On the job at Banana Republic.
Occupation: Sales Associate, BR.
Style Philosophy: "Modern. I have an outgoing personality so I try to match it with my clothes. I'm not trendy. I don't follow guidelines. I like to do my own thing. I mainly wear black and neutral tones."
Wardrobe Staples: Well-fit tailored blazers.
Where I shop: Banana Republic (Duh!), Macy's, Jeremy's.
Entry Filed under: Profiles in Style,Trend