February 1st, 2006
Whether you're into not-so-mellow yellow, outrageous orange or eye-piercing purple, flats, pumps, or mules, there's an easy way to determine which shoe will shine brighter on your fabulous feet.
If your pain threshold is below zero, your obvious choice is a flat shoe. If you can strut, groove, and kick butt all while in your 4-inch stilettos, choose one of the wedge styles. If you'd rather go for a walk than sit and read a book, let sneakers do the hiking for you.
Warning: If you tend to be shy and despise attention (even if it's only to your feet), stay away from the following pairs.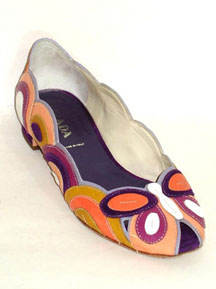 Prada Leather and Patent Leather Butterfly Peep Toe Flats | $133 at Designer Exposure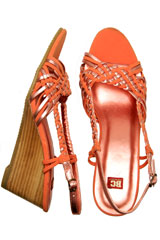 Metallic Braided Wedge | $48 at Urban Outfitters
Gucci Orchid Suede Brown Logo Sneakers | $316 at Bluefly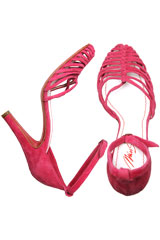 Miss Sixty Harold Heel | $170 at Urban Outfitters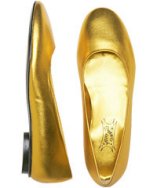 Jeffrey Campbell Metallic Yellow Leather Rounded Toe Flat | $49.99 at Bluefly
Entry Filed under: Trend,Trendscape,Trendscape,Women