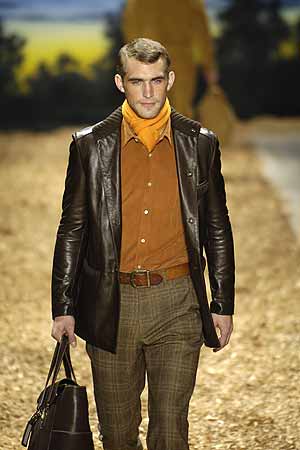 Photo Credit: NY Metro
Key Takeaways: Designer John Bartlett gives us a taste of good ol' American clothing that is more suitable for the mature professional man who doesn't want to look like he stepped out of an L.L. Bean catalog. He contrasts aesthetic knits with sleek leather and splashes a reasonable amount of panache where needed. Not necessarily "fashion forward," but it does keep up with the times (i.e. shoulder hugging long-sleeved henleys).
Color Palette: Rich earth tones are complimented by not-so-loud splashes of oranges, blues and yellows.
Silhouettes: Slim-fit pants that include subtle plaid prints and classic slacks. Sweaters range from flattering V-necks and striped sweaters that adhere to the man's "Adonis" form and dispel those horrifying rumors of the dreaded horizontal stripe.
Accessories Report: Murses (man purses) are coming into the forefront! Also making an appearance for Fall 2006 are long, chunky nostalgically knitted scarves – just like grandma used to make.
What's Wearable: Bartlett continues the trend of layering admirably – mostly with his alteration of the "hoodie with blazer" look. He goes a step further and utilizes a college professor tweed blazer and combines it with a street-style hoodie. Sounds a bit old-looking, but it works. The coats included in his collection are definite stand-outs – leathers, warm knits and pea coat-esque outerwear – stylish, yet mature.
What's Not Wearable: Two words: leather pants. Unless you're Ricky Martin, don't go there. We also saw a button-down shirt accessorized by this gun holster looking thing. It was as if an extra from "Young Guns IV" made an appearance on the runway.
1 comment February 4th, 2006