February 4th, 2006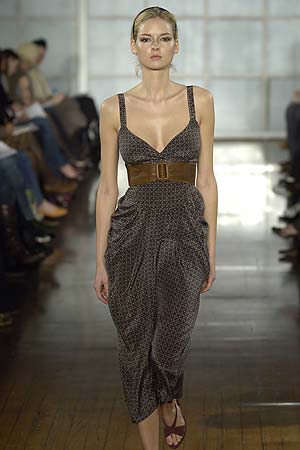 Photo Credit: NY Metro
Key Takeaways: A leather belt with a square buckle (in black and brown), worn above the waist on the ribcage, showed up on numerous pieces: a black loose dress, a black trench coat with fur, a blue chiffon dress, a brown short-sleeved coat, a sparkly black dress, a black chiffon layered mini-dress, a grey and black patterned silk dress. Dresses of all sorts – both streamlined and loose-fitting – also dominated the collection.
Color Palette: Black, grey, brown, goldish yellow, blue, and some white.
Silhouettes: Baggy was common theme. It influenced the dresses, trousers, skirts, and coats.
Accessories Report: Thin black headbands worn with a ponytail, long scarves.

What's Wearable: There were far more wearable items than not. We could see the dresses and military-style jackets at fancy soirées.
What's Not Wearable: MC-Hammer-esque puffy trousers are better left on…MC Hammer. And though we can all appreciate some fur, one all-fur jacket with a high collar looked more grizzly than girly.

Entry Filed under: Runway Reviews,Runway Reviews,Trend,Women