February 4th, 2006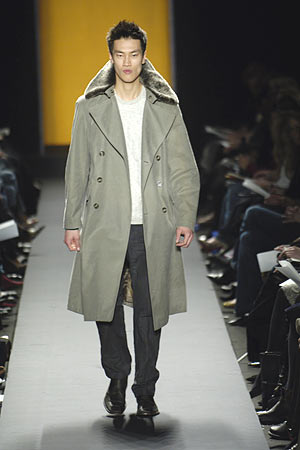 Photo Credit: NY Metro
Key Takeaways: The trenchcoat is back but it no longer screams "Inspector Gadget" or "Columbine." Instead, these men's and women's coats with high popped up collars, fur, and quality textures shout "Aviator," "Military," and most importantly, "Chic!"
Color Palette: Heavy emphasis on grey and black, but some mustard yellows, browns, navy blues, and military greens showed their hues.
Silhouettes: Long and cropped coats, A-line skirts, slim trousers, and a few loose chiffon dresses.
Accessories Report: No jewels were in sight, but handbags were prominent. For women, we saw maroon, grey, and black wristlet clutches and jumbo leather satchels. One man carried a weekend black leather satchel resembling a bowling ball bag. Possible trend alert here.

What's Wearable: Almost everything. Kenneth Cole did a wonderful job of designing real clothing for real people (Did he steal our Omiru concept?!). Especially wearable are sophisticated skirt suits, heavy coats, and loose sweaters.
What's Not Wearable: I can't imagine a non-military man sporting the half suede, half leather green and black boots.

Entry Filed under: Men,Runway Reviews,Runway Reviews,Runway Reviews,Trend,Women