February 4th, 2006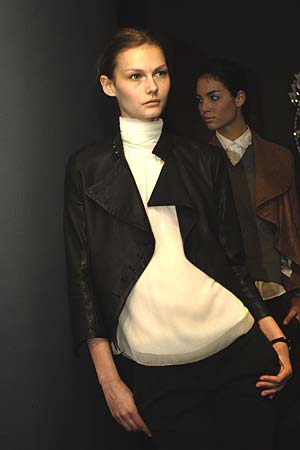 Photo Credit: NY Metro
Key Takeaways: Tights, tights, and more tights. Black opaque tights were paired with dresses, pants, and even open-toed heels.
Color Palette: Can we say black overload? A brown bow (on a black dress) and a white chiffon turtleneck (under a black jacket) were in sight.
Silhouettes: Loose dresses, skinny trousers, and cropped jackets with quarter-length sleeves.
What's Wearable: Cropped jackets, chiffon turtlenecks, a black tube dress with a brown bow, a black lace dress.
What's Not Wearable: Nothing Too unwearable here. This piece hardly qualifies as un-wearable to many, but women who don't like to dress like their men might not like the white button-down shirt with tuxedo stripes.
Entry Filed under: Runway Reviews,Runway Reviews,Trend,Women