February 5th, 2006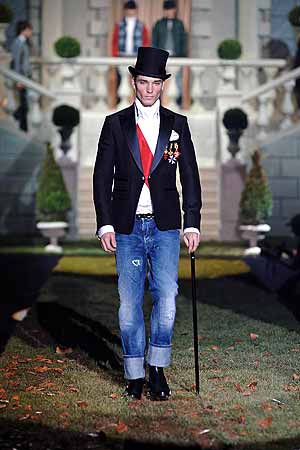 Photo Credit:
NY Metro
Key Takeaways: Ever since 1994, twins Dean and Dan Caten have been purveyors a of street style that has exceeded the style expectations of fashion mavens everywhere. This season, they continue their fashion forward ingenuity with a mixture of class and street smart sexiness. Their fall pieces give the look of a proper 19th century Englishman up top and a contemporary urban hipster below the waist.
Color Palette: Standard shades of autumnal neutrals are juxtaposed with bold reds, greens and yellows that stylishly pop.
Silhouettes: D Squared's popular low-rise jeans are a generous cross between a slim fit and a relaxed fit. Adhering to anything they are paired up with, the jeans (as well as their slacks) give a cohesive line that interconnects their layer upon layer look on top – giving one of the most marvelous looks that only Dean and Dan can pull off.
Accessories Report: Plain solid ties are a good way to give contrast to their somewhat busy outfits, while interesting pieces of equestrian head gear, ivy caps, bowlers and top hats give a blatant D Squared stamp of approval. Other accessory hints include: modern uses of the underused bowtie, the tussled front pocket handkerchief, canes, D squared branded scarves – all they are missing to bring this collection full circle are the monocles.
What's Wearable: Their punk rock regality provides looks that can be worn as a whole or that can be picked apart to make the perfect look with less layering. Vests will officially be a big thing for fall. Of all their outerwear (which includes some fine pieces of leather, double breasted fare and other goodies) their blazers are remarkably sexy (in a masculine way) – the various textures and perfectly tailored cuts encase the male's torso with comfortably snug style – we especially liked the velvety variety with satin trim. For an even more complete look, their suits are flawless. They aren't necessarily screaming "D Squared," but their style is definitely sewn in.
What's Not Wearable: Obviously, the majority of the world won't go out in equestrian head gear to venture off on a fox hunt, so many of their accessories are for pure show. Sometimes, they do go overboard on the layering. Even though it may look good on their modish models, a blazer on top of a denim jacket on top of a turtleneck is a little much. Then again, Brittany Murphy showed up at their show, so that makes up for everything.
Entry Filed under: Men,Runway Reviews,Runway Reviews,Trend