February 5th, 2006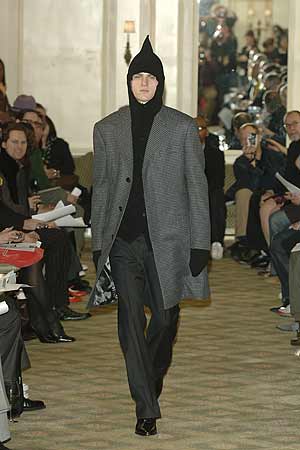 Photo Credit: NY Metro
Key Takeaways: The design duo of Steven Cox and Daniel Silver has always been a subtle voice for the over-the-top. This season, they calm it down a bit and play it safe in a collection of suitable coats, sweaters and unusual fall garments that have some sort of conceptual design hidden in the seams.
Color Palette: Grays, blacks and washed out primary shades that don't make the collection as fun as it should be.
Silhouettes: Once you look past the trademark Duckie Brown quirkiness involved, the tailoring and layering of the garments are complementary. The monochromatic and dark shades mixed with the small fall patterns work well to trace a man's shape.
Accessories Report: Costumey and cartoony knit beanies stand at full attention while an occasional use of a hefty scarves contrast with the shapely form-fitting tops.
What's Wearable: Layer friendly coats provide warmth, but the nostalgically knit turtleneck sweaters seem a bit atypical for the conceptual minds of Duckie Brown. Possibly new to the scene is a stylish double breasted cardigan matched with any of their relaxed fit slacks – one of which is of the drawstring nature.
What's Not Wearable: Where should we start? For starters, there's a large necked sweater with oversized long sleeves that pop out of a mid-length coat. There's also a questionably constructed turtle neck with a vest-like garment embedded in the front. They tend to explore both spectrums: the unbelievable plain and the whimsical avant-garde. It's nice to know that Duckie Brown has a sense of humor when it comes design, but there is such a thing as a bad joke.

Entry Filed under: Men,Runway Reviews,Runway Reviews,Trend