February 5th, 2006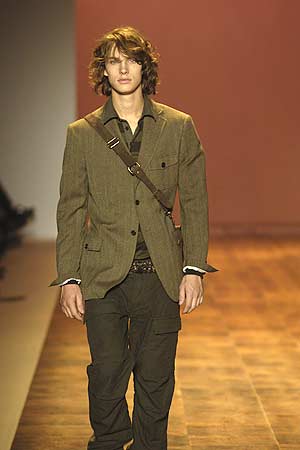 Photo Credit: NY Metro
Key Takeaways: Varvatos has made a name for himself with his work with the classic Converse sneaker, which has given him a reasonable amount of street cred. With his newest collection, he gives us a cobblestone of casual and formal menswear that fuses the likes of a desert adventurer, a professional business Londoneer and a nerdy chic beatnik.
Color Palette: A foresty palette of browns, military greens, shadowy blacks and luxurious grays.
Silhouettes: True to form, Varvatos's craftsmanship is flawless. The popular slim fit outlines men as if it were morphed onto their bodies – same goes with their finely tailored outwear. Rather than being bulky, the layering is actual flattering.
Accessories Report: With an "Oliver Twist," many of the pieces included Greek fisherman caps (they look like paperboy caps, but a little less boy-like.) Scarves make an appearance as well, but they aren't has obvious as those others we have seen. Varvatos also gives us another taste of the murses (man purse for those who didn't read my John Bartlett entry) and couture duffel bags. The popular use of the beanie is also evident in the collection, but instead of making his pieces look thuggish, they give a decent, Oxford University pseudo-intellectual appeal.
What's Wearable: The material is more than suitable for the kissable fall air – as evidenced by the many full and mid-length coats (some of them double breasted), waistcoats as well as a fur lined distressed leather. Although in line with many other designers, Varvatos takes the lead with wonderfully constructed blazers and slim fit pinstripe suits. Contrasted with fitted outwear, he gives horizontal stripes a softer, flattering look. For a great addition, his work with Converse shines through in his laceless slip-on low tops.
What's Not Wearable: The use of draping ponchos has the tendency to give a more "homeless couture" look rather than an haute couture one. Unless you enjoy that wandering mariachi image, this one could be left in the closet.

Entry Filed under: Men,Runway Reviews,Runway Reviews,Trend