February 5th, 2006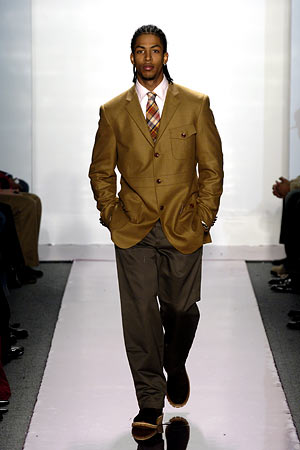 Photo Credit: NY Metro
Key Takeaways: As one of the few designers that boast a "Made in the U.S.A." tag, Wesetly creates a "no fuss" line of suits this season for the common man. Comfortable, stylish and extremely masculine, his fall pieces are more suitable for a linebacker rather than a skinny chess geek.
Color Palette: Fall friendly grays, greens, and bronzes, with the occasional visit from a vibrant color.
Silhouettes: As opposed to many of those Euro-chic three button suits, he creates unique pieces for the more broad-shouldered man. Some suits have reminiscent tailoring of a Safari jacket, but still maintain a look of a blazer. The suits leave plenty of room for comfort, something many men will enjoy.
Accessories Report: Once in a while, a classic paperboy cap or fedora appeared on the runway, but other than that, the texturally solid colored and striped ties give great praise to his suits.
What's Wearable: Combining metro denims, professional fabrics and uncomplicated cuts, all of his clothing is blatantly ready-to-wear. One of his popular pieces is the pinstripe suit – something that will never go out of style. His suits contain a great deal of texture and they don't come off as gimmicky. This includes his most avant-garde blazer: a double breasted green coat that seems asymmetrical. Some of his blazers contain a surprising twist – like a paint-splattered pattern paired with some dirty denim jeans or a stylish floral doodle atop a rich brown. Although minimal in his collection, leather bomber jackets stand out as key pieces – something that may be a big thing this fall.
What's Not Wearable: A black and brown checker board blazer suitable for uncles who make fools of themselves at family reunions.
Entry Filed under: Men,Runway Reviews,Runway Reviews,Trend