February 5th, 2006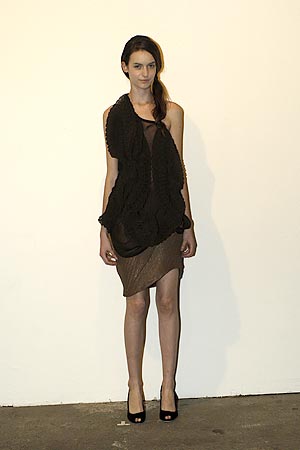 Photo Credit:
NY Metro

Key Takeaways: Voluminous sleeves, ruffles, and asymmetry ruled the runway at ThreeAsFour.
Color Palette: Black, browns, shades of dusky rose, muted oranges, and bright pinks.
Silhouettes: Voluminous sleeves, ruffled capes, drapey tops, and stovepipe-skinny pants bunched up at the bottom, jackets with bunched up sleeves, hooded trenchcoats, asymmetrical blousy tops and short skirts, cropped jackets, and flowy dresses.
Accessories Report: Can we say peep-toe heels? Ruffled scarves a la Fall 2004 BCBG and tights also held court.
What's Wearable: We LOVE the hooded trenchcoat with the rounded corners. Another standoutwas the asymmetrical blousy top with the triangular-shaped back.

What's Not Wearable: Careful with those leather pants.
Entry Filed under: Runway Reviews,Runway Reviews,Trend,Women