February 5th, 2006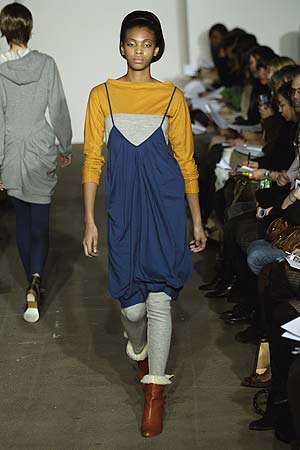 Photo Credit:
NY Metro

Key Takeaways: Menswear-inspired and unstructured suits for women. United Bamboo moved away from the cropped jackets, going towards a longer, waist to 5/8 length look. Vests and toggle coats featured prominently for men.
Color Palette: Neutrals: Black, Grey, Cream, and Brown, with touches of royal blue, gold, and orange.
Silhouettes: Garments that end at mid-thigh, A-line dresses, 3/4 sleeves, high waisted pants, waist length and 5/8 length jackets, double breasted coats, voluminous tops over slim bottoms, and slim tops over voluminous bottoms. As in the Spring 2006 collections, controlled volume played a big role here, especially with the bubble skirts with gathered fabric at the bottom.
Accessories Report: (Lace up) Boots, skinny belts, nerd glasses, tie waist belts on men.
What's Wearable: Layering dresses over long sleeved tops. Hoodies as dresses were especially cute. For men, toggle coats, vests, cardigans (left over from Spring 06), motocross-inspired peacoats, and the everpresent trenchcoat were key.

What's Not Wearable: The tie waist belts on men, and on women, the giant hair–a cross between bedhead and a beehive.
Entry Filed under: Men,Runway Reviews,Runway Reviews,Runway Reviews,Trend,Women