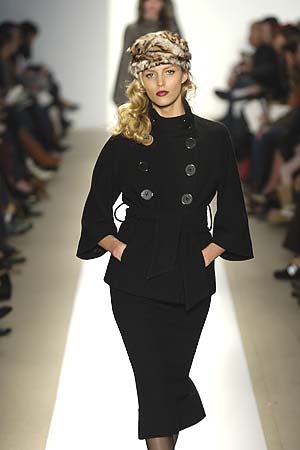 Photo Credit:
NY Metro

Key Takeaways: Bryan Bradley and Josh Patner fuse modern style with nuances from the 40's and 50's to give this collection of pin-up secretaries the energy of the a powerful female CEO.
Color Palette: Heavy use of blacks, grays, whites and browns, with uninvited guest appearances from red, yellow and a leopard print.
Silhouettes: In keeping in the spirit of retro professional glamour, every single coat, dress, pair of slim cut slacks and pencil skirt hug the female form, displaying an extravagant hourglass figure. The blouses range from the sheer to the flirty conservative with dolman sleeves, Japanese inspired cuts and feminine puff – all of them fit nicely and complement the other portions of the garment. For some pieces, the choice of broadly printed silk flows with ease, kissing the female in all the right places. Each piece is consistent and has clean lines that are basic, yet each piece is yearning to be worn.
Accessories Report: Boxy duffel bags and floral print luggage gave the collection the feel of a "woman on the go." Big bows emerging from the garments and makeshift fabric flowers pinned to blouses make the pieces look like one cohesive garment, rather than pieced together. Capes and shrugs are also included in the collection, proving the popular pieces of fashion add-ons are not totally out of style yet.
What's Wearable: Believe it or not, the fur is very appealing (sorry PETA.) The way they are modified and worn is fabulous. Same goes for the waist coats with huge buttons – wonderfully constructed and very versatile, perfect for women of any size. Their minimalist style takes a small break with their eveningwear – not too complicated and not too plain – they are just right (and luxuriously chic.)
What's Not Wearable: Besides being a more stylish version of Banana Republic, (don't be surprised if they steal some of these styles) the monochrome tones are interrupted by a DB Tabard style coat Jackie-O dress in red. The dress itself looks more like a service uniform, but the fact that it is tangential to the color statement of the rest of the collection makes it such that it doesn't fit in. Same goes for the loudly patterned yellow jacket. Having color included in a neutral collection is a good idea, but it would have been better to have it subtly introduced rather than splashed onto the scene.
Correction: We were informed by Mr. Bryan Bradley himself that Josh Patner is no longer with Tuleh. Furthermore, the "Jackie-O dress" is actually a DB Tabard style coat. Thanks for the corrections, Mr. Bradley…we really do appreciate!

1 comment February 6th, 2006