February 6th, 2006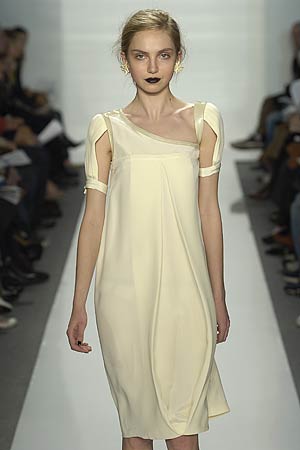 Photo Credit: NY Metro
Key Takeaways: Each piece in Roi's collection is unique and follows no particular guideline. Upon first glance, it seems that she is aiming for demure and ladylike, but one look at the model's lips (painted pitch black) and that image is moot. Dresses and shirts torn in random areas reinforce this idea. Some heavy layering adds a rather masculine air from time to time. The bottom line? Anything goes.
Color Palette: With the exception of two bright pink items, black, off-white, light and navy blue, grey, and khaki hues make the models look like they have frostbite.
Silhouettes: Tight is nowhere in sight, but saggy isn't the name of Roi's fashion game either. Almost every item, except for one parachute-like skirt set, sits comfortably on the model's frame. Also of note: Roi showed more skirts and dresses than trousers.
Accessories Report: Square purses resemble small lunchboxes, but with more class. One model also looked like a schoolgirl with an over-the-shoulder grey bag with black leather trimming. Steering away from the schoolgirl look, some models sported bandit-like leather gloves torn at the fingers, while others had black thorn-like earrings that look more like torture devices than jewelry pieces. Maroon leather hunting hats and what looked like tennis-shoes-on-platforms also showed up on the catwalk.
What's Wearable: Almost every piece in Roi's collection can be worn, but not necessarily how the designer presented it. Case in point: a navy blue Hamlet-esque long coat that would look stylish with a pair of dark blue jeans, but not with Roi's choice of blue shorts, black stretch pants, a white button-down shirt, and a grey cardigan. If you're feeling rather eclectic, go for the off-white knee-length dress with cutouts.
What's Not Wearable: Unless you're robbing a bank, the leather gloves might not come in handy, and unless you're hunting for ducks, leave the square-head hat behind. Oh, and those black thorn earrings might have a reverse effect if you're trying to attract a crush.

Entry Filed under: Runway Reviews,Runway Reviews,Trend,Women