February 6th, 2006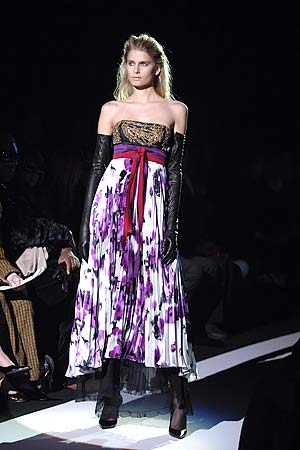 Photo Credit: NY Metro
Key Takeaways: True to their roots, Badgley Mischka stuck to glamorous eveningwear. Though there was some shine, the usual Badgley Mischka glitz was kept to a minimum. In its place were floral prints, pleats, feminine lace, velvet, and fringe.
Color Palette: Royal blue, brown, purple, black, off-white, navy blue, teal, bright yellow, maroon, and red. Basically, we saw almost all the colors of the rainbow!
Silhouettes: The collection was almost evenly split between long, lean gowns and short, voluminous dresses and skirts. The occasional lean pant and knee-length short was also thrown into the mix for those who like to dress up, but not in a dress.
Accessories Report: Some small and square sunglasses made their debut on the runway, along with cross chokers and other dangly necklaces. Evening clutches were also seen on some hands but almost dimmed near the intricate dresses. We also saw the long (mid arm) leather glove at Badgley Mischka—this is certainly one of the big accessories trends for the season.
What's Wearable: Almost all of the dresses, trousers, and coats are wearable. Keep in mind that each piece has immense presence, so sporting these looks in bright daylight will likely not fly (unless you have the personality to match!).
What's Not Wearable: Two dresses are better left on the runway. A red one can pass as a fancy garbage bag, while the royal blue piece looks like a costume from a regal production.

Entry Filed under: Runway Reviews,Runway Reviews,Trend,Women