February 6th, 2006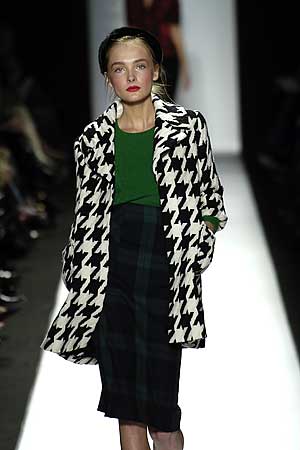 Photo Credit: NY Metro
Key Takeaways: It's all about the patterns for Diane Von Furstenberg. She takes preppy plaids and polka dots to a cool new level. Herringbone, chain-link, and lip outline patterns all make their way onto high waist skirts, wrap dresses (her signature), shirtdresses, and more.
Color Palette: Black, white, red, green, khaki, grey, and fuchsia.
Silhouettes: Lots and lots of wrap dresses (but of course), shirtdresses, baggy man trousers, vest suits, high waisted tight skirts, and loose-fitting dresses.
Accessories Report: Slouchy gloves in green, black, and fuchsia; thick headbands in many patterns and colors (sitting toward back of head); chunky chain-link bracelets and a charm bracelet (even though we thought those were So done).
What's Wearable: Every piece is wearable but shouldn't be paired with clashing patterns. The brown and black polka dot blazer is adorable, but it looks mismatched with the black and red plaid button-down shirt. Eek.

Entry Filed under: Runway Reviews,Runway Reviews,Trend,Women