February 6th, 2006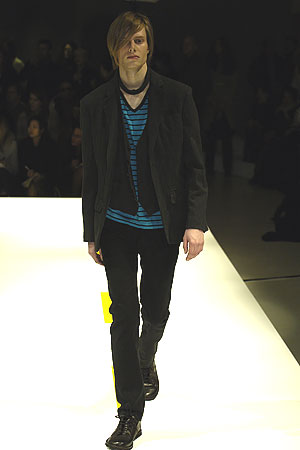 Photo Credit: NY Metro
Key Takeaways: No one can mess with this season's DKNY followers, because even if they're not tough, their clothes sure are. Black, a longtime staple for the rough and tough, is a common theme here, as is a solemn face. Whether in skirts or pants, men or women, you better think twice before approaching these models because they look more than sharp.
Color Palette: BLACK, with an occasional maroon, hot yellow, teal, white, gray, brown, and green.
Silhouettes: Contrary to what we're used to, this time baggy is reserved for the women and it's rockstar tight for the men. Don't worry, Donna Karan hasn't pulled a fast one on us and put the women in men's clothing. The men rocked their traditional trousers a tad tighter and slipped a vest underneath their coats, while the ladies layered and let loose.
Accessories Report: Hats and black opaque tights for the women, skinny ties for the men, and skinny black scarfs-as-necklaces for both sexes.
What's Wearable: Almost everything is wearable if one doesn't mind having unstylish people have an occasional laugh at their expense. But the layering will probably have to be toned down a bit for the real streets.
What's Not Wearable: The only piece that would conjure up some major laughs is a high-waist flannel skirt that folds at the bottom, especially when it's paired with the matching hat.
Entry Filed under: Men,Runway Reviews,Runway Reviews,Runway Reviews,Trend,Women