February 6th, 2006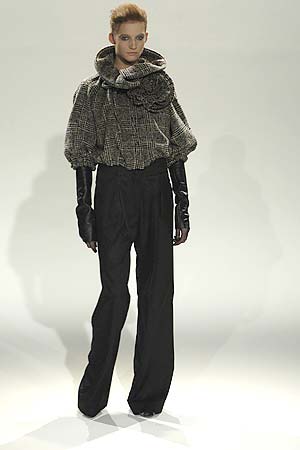 Photo Credit:
NY Metro

Key Takeaways: The key stories here were (1) Ruffles, (2) voluminous sleeves, (3) High waisted styles, (4) Lush fabrics and textures, and (5) Beautiful Draping (Doo Ri chung's signature).
Color Palette: Neutrals–black, greys, beiges. Yawn…but it keeps the collection wearable.
Silhouettes: Puff and voluminous sleeves, 1/2 sleeves, wide legged pants, exaggerated collars, cape-like jackets with leg of mutton sleeves, handkerchief hems, bubble-like fabric gathers, cropped styles, asymmetric hemlines, cap-sleeved styles, dropped-waist dresses vs. high waisted skirts and pants, skirt lengths that end at mid-calf, oversized dresses.
Accessories Report: Giant fabric brooches, long fingerless gloves, knee-high boots, fabric scarves, embellished belts.
What's Wearable: Most everything. We especially liked the Gorgeous black silk charmeuse evening ensemble with an inset contrast inverted triangle on the front top.
What's Not Wearable: It's hard to wear skirts that end at mid-calf, unless you're Extremely Tall. And while the exaggerated ruffled collars are interesting on the runway, they might not work so well on the streets.
Entry Filed under: Runway Reviews,Runway Reviews,Trend,Women