February 6th, 2006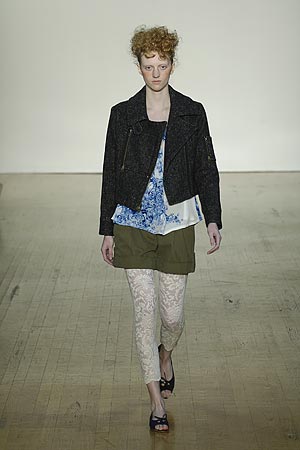 Photo Credit:
NY Metro

Key Takeaways: The key stories for women were (1) shorts over leggings, (2) tie-neck styles, and (3) blousy sleeves. For men, the key stories were (1) vests, (2) boatneck-style sweaters, and (3) extremely slim cut pants.
Color Palette: Neutrals with touches of light blue, pink, olive, mustard, violet, and brown.
Silhouettes: Slim cut bottoms for both men and women, including leggings. For women, tie-neck jackets and blouses were big, as were shorts, cropped motorcycle jackets, blousy sleeves, capelet-style jackets, below-the-knee skirts, blazer-like sweaters, and baggy culottes. For men, we saw boatneck-style sweaters, vests, patterned pants and shirts, cardigans, and 3/4 length coats.

Accessories Report: Oversized bags, knit caps, and sneakers for men. For women, skinny ties were the big story.

What's Wearable: We liked the tie-neck styles, the capelet-style jackets (though they were rather Old news), and the blazer-like sweaters for women. Skinny ties were also interesting, but not particularly fresh-looking. For men, we liked the tailored look of the cardigan sweaters and the 3/4 length coats, along with the slim cut pants.
What's Not Wearable: Be careful with the shorts-over-leggings look. It can be done, but keep the look playful. For men, the button-down shirts with contrast patterned fabric can look hokey if not done carefully. The extreme boatneck is also a style to be worn with care.
Entry Filed under: Men,Runway Reviews,Runway Reviews,Runway Reviews,Trend,Women