February 6th, 2006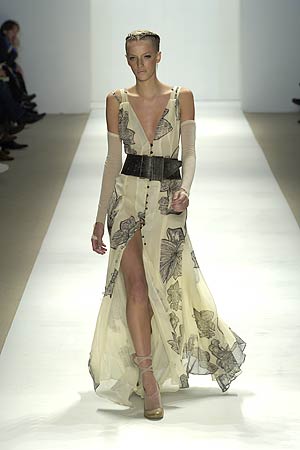 Photo Credit: NY Metro
Key Takeaways: Feminine, medieval, ballerina-esque, and tough-chic all describe the Sass and Bide girl. A quick change from a light yellow, flower-patterned long dress with a high front slit to a black button-up jacket with a turtle neck and a tight black skirt instantly transforms a summer gal to a femme fatale. No matter the style of clothing, each model has a little bit of a dancer in them, and the tights on their arms prove it.
Color Palette: Light yellow, brown, off-white, khaki, dark grey, light blue, and of course, black.
Silhouettes: Long and flowy, short and puffy. Everything is rather loose except for the tights.
Accessories Report: White tights, round-toe heels with ballerina-like tie-up laces, and mega thick leather belts shined.
What's Wearable: Take away most of the excess accessories and stick a camisole underneath the sheer, and several items are worthy of purchasing. The long floral dresses, black skinny pants, a black and gold tiered dress will work well on the streets and the dance floor.
What's Not Wearable: The medieval ensembles are better left to the cast of Shakespeare's "Hamlet." Tights covering the arms might also be too out there for us non-models out there. Finally, to avoid looking like a belly dancer, stay away from the yellow spaghetti string dress with far too many tattered pieces.

Entry Filed under: Runway Reviews,Runway Reviews,Trend,Women