February 6th, 2006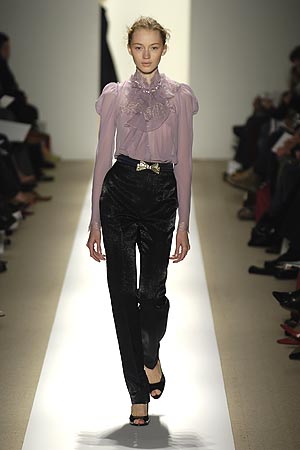 Photo Credit: NY Metro
Key Takeaways: This collection has feminine romantic sewn all over it. Slim belts are adorned with a girly bow (very Spring 2006), and even the black pieces ooze delicateness. Although some dresses reveal the décolleté, most are long-sleeved and high-necked, reinforcing the image of a modest yet stylish gal. Looks like Victorian-style pieces are sticking around through Fall.

Color Palette: Lilac, navy blue, black, gold, off-white, and silver.
Silhouettes: Nothing is loose enough to be messy, but the garments are tight enough to be provocative. High-waist trousers are taut; sheer chiffon blouses have puffy shoulders; fancy and sparkly dresses remain demure.
Accessories Report: Nothing too extravagant. We saw a high waisted belt with round and square hardware and a thin belt with bow hardware (talk about mixing hard and soft!). The minimal use of accessories is the perfect way to let the clothes do the flirting.
What's Wearable: There's nothing too avant-garde in this collection, so with a bit of tweaking, every piece can be worn. We do have a word of warning for you: Only sport these garments if you're going for the Innocent Girl look.
Entry Filed under: Runway Reviews,Runway Reviews,Trend,Women