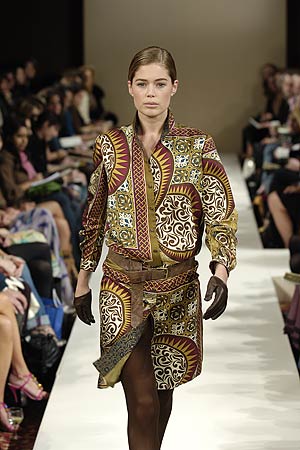 Photo Credit: NY Metro
Key Takeaways: Nicole Miller's collection, brimming with patterns and colors, is a fine departure from all the blacks and neutrals seen everywhere else. And just when you thought every pattern combination has already been discovered, Miller exposes yet another funky set. And she's not scared to pair contrasting kinds.
Color Palette: Are you ready for this? Here we go: army green, maroon, brown, white, teal, purple, red, gold, black, rustic orange, blue, copper, fuchsia, and khaki.
Silhouettes: Button-down loose-fitting dresses, high-necked coats, skin-tight trousers, wide-sleeved cropped jackets, floor-length skirts, and form-fitting evening gowns.
Accessories Report: Fur shrugs (one worn as a neck shawl), chunky black necklaces, both short and long leather gloves, skinny leather belts, square and tiny sunglasses, and strappy and simple sandals.
What's Wearable: The fancy gowns will work for a gala, while knee-length skirts and simple long-sleeved shirts will translate better on the streets. Most of the coats and shrugs are wearable, though not with most of the clashing patterns.
What's Not Wearable: Many patterned items may be too loud for some, but if paired with a simple coat and minimal accessories, it can work for daring fashionistas.
2 comments February 6th, 2006