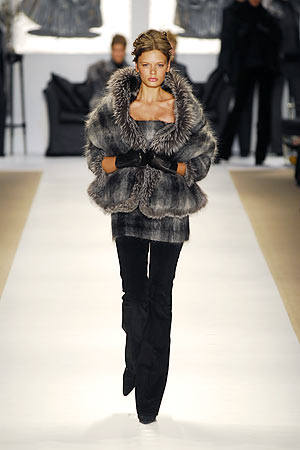 Photo Credit:
NY Metro

Key Takeaways: With his own brand of aesthetic, the Malaysian designer brings forth a "fur"-ocious collection of femme fatale garments that are perfect for work, cocktail parties and sexy espionage.
Color Palette: The foundation of solid blacks and grays is touched with icy blues and pinks.
Silhouettes: The blacks and grays are easily trace the lines of the female figure, but Toi's remarkable tailoring skills give an extra dimension of feminine supremacy. The sleek matrix style contains variations of basic black by utilizing plaids in pant suits. Toi's dresses and skirts are flattered with wispy empire waists that give maternal sensuality. All styles outline curves and give clean looks suitable for professionals and socialites alike.
Accessories Report: Although PETA might get their vegan cotton in a wad, fur is top-notch this season. Toi brings back the lost art of the mink stole with a monstrous addition to his pant suits. Wide belts add subtle panache to monochromatic suits. In addition, envelope clutches add a classy touch to much of his evening wear.
What's Wearable: Toi gives justice to the polar extremes that involve women: the immaculate and the confident. The detailing work on many of his garments is magnificent. From his majestically sexy red carpet evening wear to his luxurious pant suits, each garment brings something to the table. Out of the two, the double breasted pant suits flatter to a "T" and go with the ongoing fall theme of the "powerful working woman." Toi also manages to throw in a couple of menswear pieces that are just as fine as his women's wear.
What's Not Wearable: Fur is fun, but from a functionality standpoint, the potential excess shedding can cause problems with Toi's black color palette.
Want more trend information? Check out Omiru's Mid Fashion Week Trend Recap!
1 comment February 7th, 2006