February 7th, 2006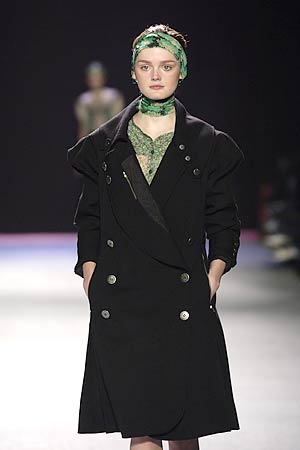 Photo Credit:
NY Metro

Key Takeaways: With a strikingly provocative collection that looks like it tells a story about a "gothinatrix" society girl living in 2099, the avant-garde Brazilian designer pushes the envelope with pieces that exude menacing femininity.
Color Palette: Pale pinks, greens and peaches are deflected off of glossy blacks and grays.
Silhouettes: Despite the stylishly girly morbid feel of the pieces, there is flattering focus on femininity. Cinched waists give a wasp-like appearance to the female form. In contrast, Herchcovitch shows whimsical pod-like dresses and skirts with interesting cuts that do not seem to praise the body.
Accessories Report: Thick belts with buckles adorned with skulls contribute to the Goth appearance of the collection, while head wraps provide a futuristic feel of ethnicity. The usage of buttons on the pants and jackets (whether functional or not) is a nice touch.
What's Wearable: The combining of the feminine floral with the textural modernity of the darks is a very bold gesture, but it works. Overall the color palette is very Spring-like but the warmness from makes them suitable for fall (the greens confidently stand out.) The sci-fi couture coats, although a bit conceptual, are unbelievably exquisite. The skirts and dresses with different cuts are tailored beautifully and the sailor-style are something to keep your eye out for this season.
What's Not Wearable: The buddy band head wrap looks as if it were purchased from a B-list celebrity of off an infomercial. Although it pulls some of the outfits together, it gives the pieces a stoic look that makes them look uncomfortable and constrictive. In addition, the floral long coat was like a kaleidoscopic seizure, making it really hard on the eyes.
Entry Filed under: Runway Reviews,Runway Reviews,Trend,Women