February 7th, 2006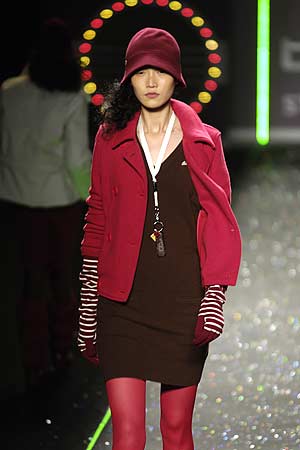 Photo Credit:
NY Metro

Key Takeaways: For better or for worse, the Lacoste show was reminiscent of a preppy hipster whacked out on street style. Key trends included (1) Sweaterdresses, (2) Tights, (3) The elbow-length glove, (4) Sporty Stripes (what'd you expect from Lacoste?), (5) Shearling for both women and men, (6) Miniskirts, and (7) Mod-style colorblocking.
Color Palette: Turquoise, Purple, Pinks, Browns, Oranges, Reds, and a Harvest Gold, on a black, white, and beige palette. Fabrics were mostly solid, though some stripes and plaids were thrown in for good measure.
Silhouettes: Silhouettes were generally lean, though there were some more voluminous pieces shown layered on top of slim foundations. Women wore sweaterdresses, tights, polos and short skirts, hooded belted trenchcoats,safari jackets, and blouson shorts. The men wore slightly poofy winter jackets, sporty track jackets, Members Only-type jackets, slim v-neck sweaters, and slim cut pants.
Accessories Report: For women: Tiered puffy boots (bizarre), bucket hats (some with two-piece brims), and the everpresent long glove. Men sported caps, fedoras, pseudo-bucket hats, and Giant Nerd Glasses. Both men and women wore lanyard-style keychains around their necks. Ahh…it brings us back to our college days.
What's Wearable: It's Lacoste, so there were a multitude of wearable styles. While the individual pieces weren't groundbreaking, we appreciated the work of the stylist who layered the clothes on the models. We found the sweater-on-top-of-polo look to be particularly preppy-cute.
What's Not Wearable: Well, we've never been fans of Uggs, so those tiered puffy boots were a no-go for us. Watch out for the intense colorblocking as well, lest you appear to be colorblind.

Want more fun with Fashion Week? Check out Omiru's mid-week trend recap.
Entry Filed under: Men,Runway Reviews,Runway Reviews,Runway Reviews,Trend,Women