February 7th, 2006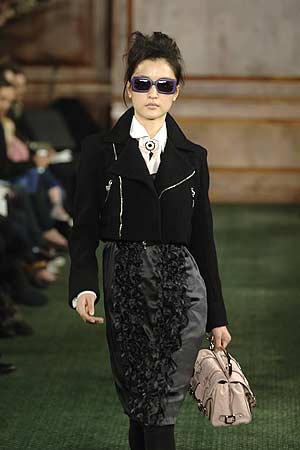 Photo Credit:
NY Metro

Key Takeaways: Key trends here were (1) Square sunglasses, (2) Tights, (3) High Waisted Styles, (4) Bow ties, worn undone, (5) Bags with chain hardware, (6) Bows at the waistline.
Color Palette: Neutrals (Black, Grey, Beige, White) with bright blues, reds, yellows, and touches of brown.
Silhouettes: Tops were fitted, though some included voluminous sleeve treatments. Bottoms were mixed–some were slim cut, others were baggy, and others Dresses were a mix of girly and ladylike. Jackets and sweaters were mainly worn cropped, following the trend of the last few seasons.
Accessories Report: Square sunglasses. Bow ties, worn undone. Bags with chain handles. Long necklaces.
What's Wearable: The high waisted skirts and pants, cropped jackets, tuxedo detailing, shearling jackets, short sleeved looks, ruffles, and bow detailing (though a throwback to Spring 06).
What's Not Wearable: Leave the plastic-coated fabrics and the Little Bo Peep dresses on the runway.
Want more Fashion Week trend information? Read Omiru's Mid-Fashion Week Trend Recap!
Entry Filed under: Runway Reviews,Runway Reviews,Trend,Women