February 7th, 2006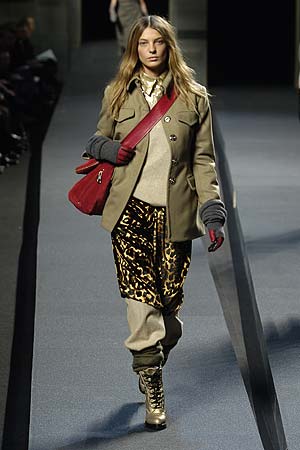 Photo Credit: NY Metro
Key Takeaways: This Marc Jacobs gal is no sissy. She's a vagabond, a gypsy, a free and sometimes dark spirit. She does not care what anyone thinks of her and she carries the essentials in her closet on her body. She's not afraid to wear her boyfriend's shirt, sweater, or trousers for that matter, and she'll rock it outside of the house with no shame. But don't get her wrong, she still likes to wear a dress—as long as it's not your average Oscar gown.

Color Palette: No girly girl colors here: Mostly grey, with army green, brown, black, , dark red, and mustard yellow.
Silhouettes: Baggier than most of the collections we've seen this season. A lot of layers, bulky trench coats, saggy trousers, puffy strapless dresses, wide cropped coats, draped-back dresses, bubble skirts, men's blazers.
Accessories Report: To go with the tough-chic attitude, leather gloves, bulky scarves, chunky handbags, exaggerated knit berets, arm warmers, leggings, over the shoulder leather bags, and a gigantic furry hat.

What's Wearable: This collection needs a whole lotta toning down in order to wear. Even if you're going to wear the baggy pieces, you need to pair them with less dramatic articles.
What's Not Wearable: Some of the dramatically loose items, like a flannel boat neck shirt and an overly huge cropped trench coat, are not suitable for the streets. We also don't recommend gigantic furry hats.

Entry Filed under: Runway Reviews,Runway Reviews,Trend,Women