February 7th, 2006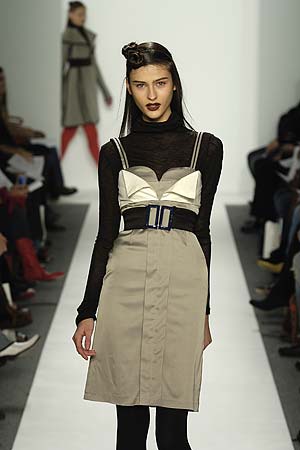 Photo Credit:
NY Metro

Key Takeaways: Kit Willow's Fall 2006 collection was very much in line with the overall trends we've been seeing: high waistlines, belted styles, layering dresses over turtlenecks, Huge collars, and voluminous shapes.
Color Palette: Neutrals: Black, White, Grey, and Brown, with splashes of green-yellow and pink.
Silhouettes: Very full on top or the bottom, or an overall slim silhouette. Also favored are highly constructed bustier style dresses.
Accessories Report: Belts with huge metal buckles.
What's Wearable: Layering dresses over turtlenecks, high waisted styles, bustier-style dresses.
What's Not Wearable: Beware of the jackets with the HUGE collars…they'll make you look disproportionate.
Check out Omiru's Mid Fashion Week Trend Recap for more fun with trends!
Entry Filed under: Runway Reviews,Runway Reviews,Trend,Women