February 8th, 2006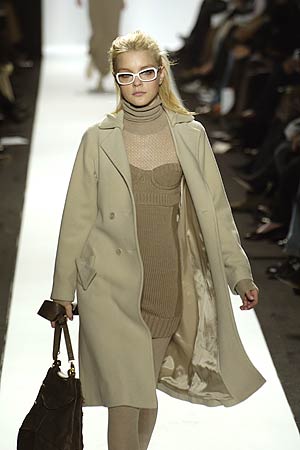 Photo Credit: NY Metro
Key Takeaways: A major turtleneck comeback is in the works. For one, BCBG has elongated the traditional turtleneck into a slimming mini dress. Turtlenecks were also layered beneath dresses, saying goodbye to the bare décolleté. Knee-length boots are old news, but this collection saw knee-length tights peeping out from under the boots. This BCBG girl is less sophisticated and more medieval and carefree. Tres innovative!
Color Palette: Black, teal, blue, rustic orange, purple, brown, mustard yellow, khaki, and grey.
Silhouettes: Things are pretty loose around here: Chiffon dresses, puffy shorts, knit jackets, cropped cardigans. The turtleneck dresses are the exception to this rule because of their stretchy nature.
Accessories Report: Knit beanies are a must; almost every outfit in the collection has a matching one. White and black square and tiny glasses (looked more like reading glasses than shades) were also prevalent. An occasional mid-size handbag with a chain-link strap was seen. And the latest trend brought back from the Clueless era: knee highs.
What's Wearable: The turtleneck dresses should definitely be sported with a pair of tights, especially on a rainy day. Many of the fancier dresses are quite practical as well.
What's Not Wearable: If you choose to work the knee highs under the boots, you take the risk of looking like an agricultural farmer. One kimono-like jacket with wide sleeves is quite unflattering, even on a stick skinny model. Finally, one fancy gold dress with a turtleneck underneath looks more like a walking lampshade than a dress.

Entry Filed under: Runway Reviews,Runway Reviews,Trend,Women