February 8th, 2006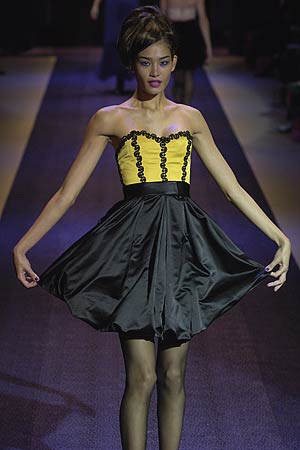 Photo Credit: NY Metro
Key Takeaways: Tights were a lot sheerer, dresses a lot shorter, and the entire collection a bit more grown up than usual Betsey Johnson. Some aspects of the 80's were revived with sweetheart cuts, humongous shiny bows, and puffy short sleeves. Although this new Betsey Johnson girl still has a bit of edge and spunk, she's outgrown cartwheels. (Of course, Betsey will always do cartwheels…but then again she gets away with doing more than anyone her age).
Color Palette: Mostly black with hints of gold, navy blue, off-white, grey, lime green, pink, royal blue, green, purple, red, teal, and yellow.
Silhouettes: There was a lot of short, leg-revealing dresses, but they were by no means tight. Many sweetheart (Hello 1985!) and v-neck cuts showed up, as well as some babydoll dresses.
Accessories Report: We saw a few handbags with colorful embellishments floating around. Shoes were mainly pointy ankle boots and open-toed sandals. Occasionally, we saw a thick studded belt and a thin silk neck tie.

What's Wearable: Some dresses are appropriate to wear at a fancy soiree, but they must be paired with tights as they are so short. Various skirts suits and jackets are also wearable.
What's Not Wearable: It's better for everyone if the '80s stuff stays in the closet. One dress with cutouts in the stomach area oozed less class and more trash.

Entry Filed under: Runway Reviews,Runway Reviews,Trend,Women