February 8th, 2006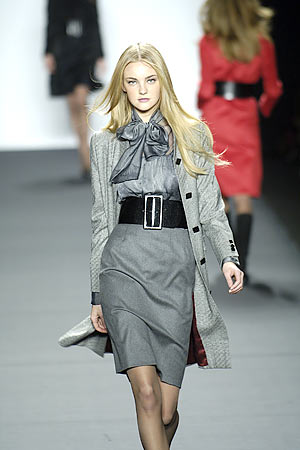 Photo Credit: NY Metro
Key Takeaways: Cinch your waist with a bow, an obi or a skinny belt for a flattering hourglass shape.
Color Palette: Steely greys and neutrals, with pops of rich color such as garnet and charmeuse.
Silhouettes: Dresses and skirts with wide belts with exaggerated buckles. Tulip skirts and cropped jackets are both here to stay for at least one more season. Stiffer, more ornate fabrics — like embroidered silk and jacquard — replaced flowy spring fabrics.
Accessories Report: Uber-wide belts are back! This doesn't mean, however, that you have to put your skinny belts away — both are wearable this season. Bows were huge at the show as well, manifesting themselves as large ties at the neck and also as cute adornments elsewhere on the body.
What's Wearable: An above-the-knee strapless dress with black-and-white chevron stripes. So classically Bill Blass.
What's Not Wearable: Full-sized ballgowns with wallpaper patterns.

Entry Filed under: Features,Runway Reviews,Runway Reviews,Trend,Women