February 8th, 2006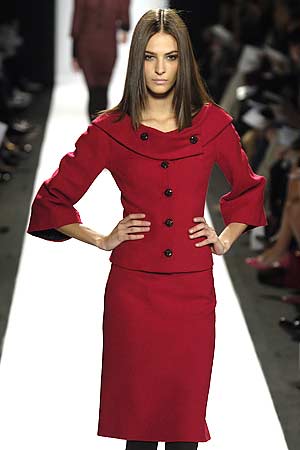 Photo Credit:
NY Metro

Key Takeaways: Carolina Herrera's collection encompassed both business-appropriate daywear and eveningwear. Key trends from this collection included (1) Emphasis on the waistline (throwback to Spring 06), (2) Voluminous sleeves (seems to be a Big Thing this season), (3) Natural to High waistlines, (4) Square sunglasses, (5) Boatnecked styles, (6) 3/4 length coats, and (7) Tights. Embellishments included fur trims, beaded styles, and bows (also So Spring 06).
Color Palette: Both warm (red, orange) and cool (turquoise, lilac) colors complemented Herrera's base of neutrals.
Silhouettes: Waistlines were either at the natural waist or above, though bottoms came in both fitted and baggy varieties. Sleeves tended to be voluminous, either at the shoulder or at the wristline. Herrera seems to have a thing for asymmetry–and 3/4 length styles (both coats and sleeves came in this length).
What's Wearable: Personal standout: An exquisitely detailed pintucked black sheath dress. We also appreciated her asymmetric suits, her slim pencil skirts, and her boatnecked jackets.
What's Not Wearable: Huge medallions around your neck…what are we, on the Sopranos? The Victorian-inspired getup with the pouf sleeves and Full skirt isn't going to win anyone any Best Dressed awards. Traci would also frown upon the vinyl-ish black and clear polka dotted dress.
What's hot for Fall 2006? Check out Omiru's Mid Fashion Week Trend Recap!

Entry Filed under: Runway Reviews,Runway Reviews,Trend,Women