February 8th, 2006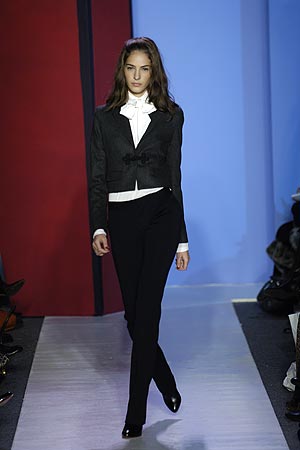 Photo Credit: NY Metro
Key Takeaways: This season, Chaiken is about minimal — but by no means drab — wardrobe essentials for her, with basic solid colors at the forefront. Staples like black pants turn from plain to powerful when paired with cropped jackets and crisp white shirts, and the LBD is pure class.
Color Palette: Almost exclusively black, with bits of red, grey, white and beige.

Silhouettes: Comfort is key, as reflected in roomy coats, straight, loose trousers and shapely below-the-knee dresses.
Accessories Report: This season's simple Chaiken gal needs not jewels but deep red ankle-length pointy boots to spice up her wardrobe.
What's Wearable: Wear all of this collection's relaxed trousers, oversized turtleneck sweaters and black sequined dresses without any fussiness.

Entry Filed under: Runway Reviews,Women