February 8th, 2006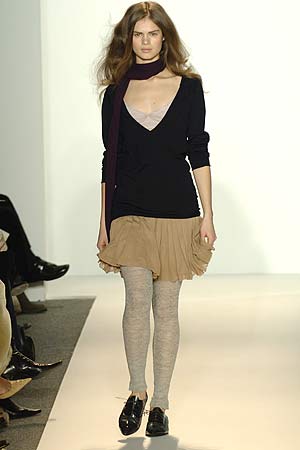 Key Takeaways: The Iisli enthusiast can be a dancer, a matron, a schoolgirl or a vixen, depending on the piece she sports. She doesn't dress with simplicity, but rather sports layer upon feminine layer of clothing.
Color Palette:
Though the collection consists of little color, ensembles are rarely all one hue. Instead, silver, beige, black, grey,
brown, olive green, maroon and blue are worn together.

Silhouettes: Loosely pleated short dresses underneath knit jackets;
deep v-neck stretch dresses; chiffon blouses with
long sleeves that bubble from shoulder to wrist. The only hint of tight
is black and grey leggings.
Accessories Report: Pointy-toed oxfords were everywhere, whether with daring thigh-high socks or with long, thin scarves.

What's Wearable:
A glittery silver wrap jacket is the perfect way to spice up a
colorless outfit.

What's Not Wearable:
Silhouettes too fussy for the eye, such as a schoolgirl jumper; bunched-up,
high-waisted skirts that exaggerate the feminine pear shape; an overly
bulky olive green minidress; leggings with everything.
Entry Filed under: Runway Reviews,Women