February 8th, 2006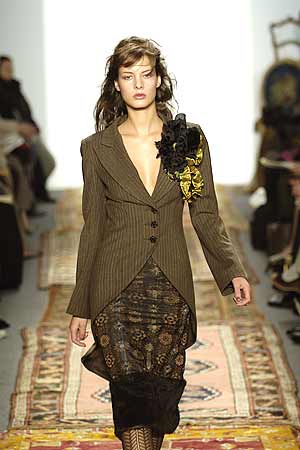 Photo Credit:
NY Metro

Key Takeaways: The sisters of "Little Women" gone wild – that's the essence of Mr. Coviello's Fall 2006 collection. As a co-worker of the famous Anna Sui, Coviello's knack for the vintage focuses on the aspects of the sophisticated bohemian rather than the naïve school girl.
Color Palette: A prismatic bolt of browns take center stage, while supporting shades include hints of warm blues, greens, pinks and maroons.
Silhouettes: A combination of fitted and relaxed is shown in the various pieces. For the most part, fitted tops lead down to relaxed, draping slacks. Asian influenced tailoring is used nicely, and knee-length skirts give a pleasant shape to the troublesome female hip zone. The numerous mutated slip dresses with flowy capped sleeves and sporadic ruffles aren't brand-spankin' new, but the delicate material used gives an applauded feminine shape.
Accessories Report: Leather shoulder purses suit the collection very well, while wispy scarves give elongated necks appreciative texture. As always, Coviello adds his own personal touch of chic corsages that are beautifully urban rather than trendy soccer mom.
What's Wearable: Each piece of Coviello outerwear (blazers, boleros and coats) promises to be the concept of many copycats out there. The multi-colored quilted cardigan is most appealing. The contrast of hard tweeds with sweet cascading fabrics is feminine with a hard professional edge, and the puffy sleeves are done in a tasteful way that makes them look wearable. The prints he uses are also great standing alone – they are both understated and stylish.
What's Not Wearable: Mixing different types of patterns is a good trend, but some of the pieces go a little bit overboard. It's no question that Coviello can do wonders with vintage style. Even so, some of his vintage-inspired clothing looks a little bit too old for general fashionista audiences. There was one patterned dress in particular that was unflattering and it looked like a table cloth/second hand house dress.
Entry Filed under: Runway Reviews,Runway to Reality,Trend,Women