February 8th, 2006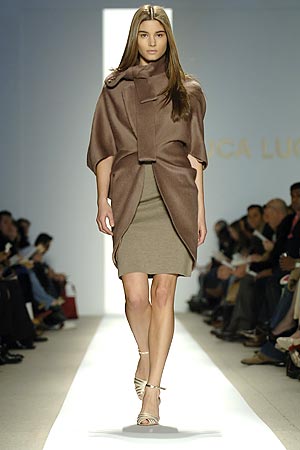 Photo Credit: NY Metro
Key Takeaways: Luca Orlandi has opted for cleaner lines, flowier pieces and an entirely different set of colors, resulting in an uncharacteristically neutral fall collection.
Color Palette: A refreshing spectrum for fall: winter white, watercolor blue, chocolate brown and cream set against steely greys and neutrals.
Silhouettes: Buttonless coats, skinny trouser pants, pencil skirts, ruffled blouses and tie-neck tops.
Accessories Report: Leopard stoles, oversized ombre enamel necklaces.
What's Wearable: A simply elegant wool camel coat reminiscent of Zoran.
What's Not Wearable: Oddly smocked empire waist cocktail dresses. You don't want to look like an oversized preschooler!
Entry Filed under: Runway Reviews,Runway Reviews,Trend,Women