February 8th, 2006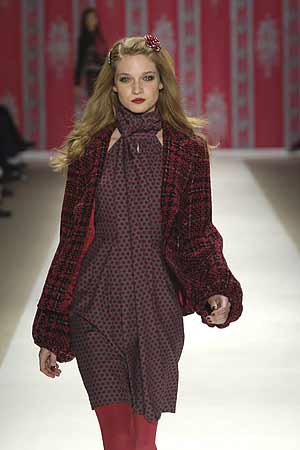 Photo Credit: NY Metro
Key Takeaways: As always, Nanette Lepore enjoys experimenting with various shapes, sizes and colors, and isn't afraid to try something new. This season, we think she was going for Granny Meets British Punk.

Color Palette: All shades of plum, complemented by black, grey, brown and purple. Silver lamé made a comeback. As far as prints go, polka dots were paired with plaids in an effort to achieve mismatch chic.

Silhouettes: Long blazers,
loose trousers, buttoned-down silk shirts, fitted sweaters, voluminous
skirt suits, flowy dresses, short trench coats and bell sleeve
boat-neck dresses.
Accessories Report:
NP incorporated patterned silk scarves into the collection, along with brooches in the hair and cuff bracelets to complement evening gowns. Red
tights also replaced the traditional black ones we've been spotting
everywhere.
What's Wearable:
The evening gowns are red-carpet worthy. The knit sweaters, tweed skirt
suits and kimono-style silk dresses can also be translated from runway
to reality.
What's Not Wearable:
The neck scarf looks more like a men's necktie, and although we women
strive for equality, we're not ready to alter our wardrobes. A plaid
pantsuit is flattering on the body but hard on the eyes.
Entry Filed under: Runway to Reality,Women