February 8th, 2006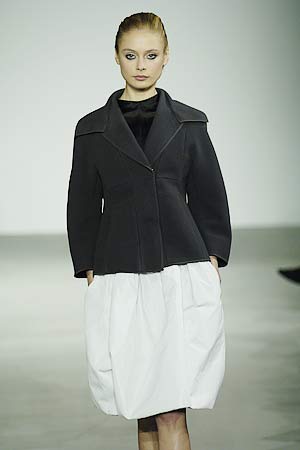 Photo Credit:
NY Metro

Key Takeaways: In the past three seasons, Narciso Rodriguez has been loosening up his silhouette. Even though fashion is heading towards the more voluminous, we wish that Rodriguez would stay true to his roots and give us more of the svelte, understated style that earned him the praise of the CDFA in the first place. For women, key trends are: (1) short sleeved dresses, (2) bubble shaped skirts, and (3) colorblocking. For men, the key trends are: (1) the Three Button Suit, (2) narrow ties, (3) knee length shorts, and (4) short sleeved sweaters.
Color Palette: Black and white, with shades of cream, peach, and bluish grey.
Silhouettes: Not the classic Rodriguez "fits like a glove" silhouette–even the fitted items were worn looser. We also saw capes, short sleeved dresses (a new trend?), and slightly bubble-shaped and flared skirts for women. For men, we saw slim cut three-button suits, narrow ties, knee length shorts (paired with a button down shirt, tie, and jacket!), 3/4 length coats, and short sleeved and sleeveless sweaters.
Accessories Report: Structured handbags, bags with chain handles, capes, and colorblocked knee-high boots.
What's Wearable: Most everything shown, both for men and women, is wearable, though we would appreciate a more structured fit to the clothing.

What's Not Wearable: Shiny vinyl-type fabrics don't generally translate well off the runway. We also won't be wearing Rodriguez's long sleeved dress with a center front lower torso vertical cutout. And because of the generous cut, some of the dresses ended up looking matronly.
Entry Filed under: Men,Runway Reviews,Runway Reviews,Runway Reviews,Trend,Women