February 8th, 2006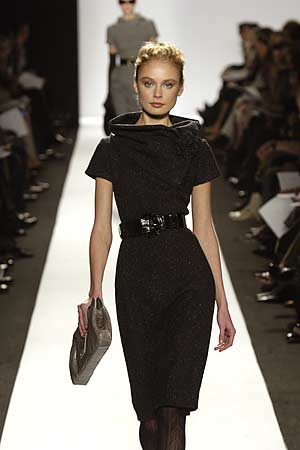 Photo Credit:
NY Metro

Key Takeaways: Last season was about controlled volume, and while this season continued that theme, it was more about volume and less about control. Key trends include (1) Bubble skirts, (2) Waistline emphasis, (3) Oversized collars, (4) Voluminous Sleeves, (5) Asymmetry, (6) Ruffles, and (7) Boatneck necklines, and (8) Fur trim detailing.
Color Palette: Mostly neutrals and muted colors, with splashes of red, blue, and gold.
Silhouettes: Three major silhouettes: (1) Slim all over, (2) Full over slim, (3) Slim over Full. Perhaps the most memorable silhouette is the bubble skirt with fabric gathers at the waistline. Oscar also showed oversized collars, boatnecked styles, cape-like jackets, tuxedo detailing, poufy sleeves, and an overwhelming emphasis on the waistline.
Accessories Report: Long gloves, trunk-like purses, necklaces with giant beads, and clutches.
What's Wearable: Eveningwear Standouts: A little black dress (shown above) that's anything but ordinary–short sleeves, cinched belted waistline, and an cross between a boatneck and a funnel neckline. And that sexy black lace strapless number that accentuates a woman's hourglass figure.
What's Not Wearable: A blouse with a leg of mutton sleeve…reminds me of Jerry Seinfeld's "Pirate shirt." The bubble skirt, as is, is going to be a tough one to pull off.
Want more Fall 2006 trend information? Check out Omiru's Mid Fashion Week Trend Recap!
Entry Filed under: Runway Reviews,Runway Reviews,Trend,Women