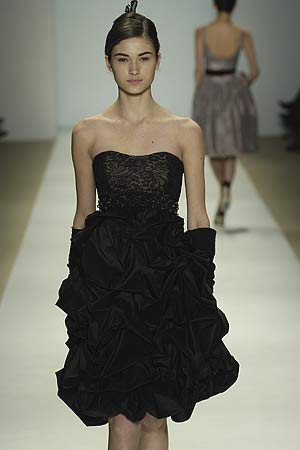 Photo Credit:
NY Metro

Key Takeaways: Key trends in Monique Lhuillier's day-to-evening collection included (1) capes and capelets, (2) bell (and other voluminous) sleeves, (3) the Bubble silhouette, (4) higher waistlines, (5) oversized collars, (6) waistline emphasis, (7) oversized fabric brooches, (8) tuxedo-style detailing, and (10) fur.
Color Palette: Black, grey, turquoise, sky blue, and greyed out shades of rose and yellow-green.
Silhouettes: Lhuillier's silhouettes tended to be either (1) big over small, or (2) small over big. Either way, they balanced out the body nicely (at least on a model's figure). Particularly oversized items included sleeves, collars, capes, and bubble skirt silhouettes.
Accessories Report: The ubiquitous long gloove and an oversized fabric brooch.
What's Wearable: A black cocktail dress with poufy ruffles caught our eye, as did a grey double breasted coat in a trapeze shape. Both daywear and eveningwear were highly wearable in this collection.
What's Not Wearable: The heavily oversized brocade coat with 3/4 sleeves would be better left on the runway.

1 comment February 8th, 2006