February 9th, 2006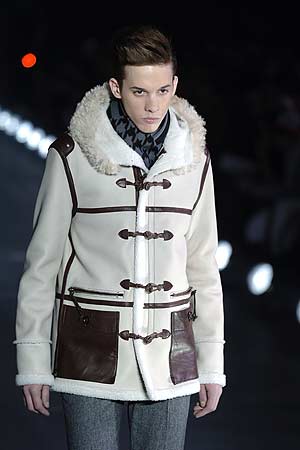 Photo Credit:
NY Metro

Key Takeaways: All in all, a well-edited "safe" collection. Nothing too outrageous here. Key trends included (1) toggle coats (love em!), (2) oversized detailing, (3) narrow shapes, and (4) fur trim.
Color Palette: Completely composed of neutrals, mostly black and white.
Silhouettes: Silhouettes were pretty narrow at Cloak. Lots of slim cuts and "tailored" layering. We saw narrow ties, narrow jacket lapels, and miniature collars. However, we did see oversized detailing, especially on the coats and jackets. Pockets, collars, and closures were exaggerated in size. Other items we saw: chunky knit turtlenecks, sweater jackets, track jackets, motorcycle jackets, and safari-inspired jackets.
What's Wearable: Literally everything. We especially appreciated the toggle coats. We've been pushing these for months, and we're glad they're finally getting the attention they deserve.
What's Not Wearable: Our only recommendation–lighten up on the black!
Entry Filed under: Men,Runway Reviews,Runway Reviews,Trend