February 9th, 2006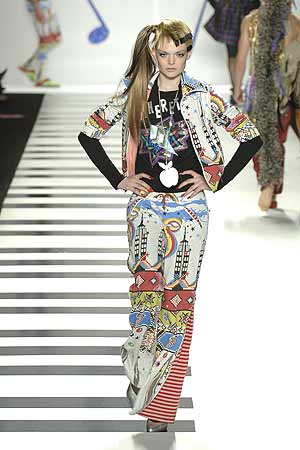 Photo Credit:
NY Metro

Key Takeaways: Sassy, sexy and striking – the only way designers Richie Rich and Traver Rains work. An overwhelming amount of stylish deconstruction walks down a piano key runway as they pay homage to New York City. There is a hodgepodge of fused looks included in this collection – think futuristic kabuki New York punk rockers sent back into time to retro 1960's London.
Color Palette: From daring uses of reds, greens and blues to the extravagant use of the French-inspired black and white stripes – if you can name a color, chances are it was included in this collection. But the main palette lies in their use of loud patterns. With inspiration drawn from such a major metropolitan area, Heatherette had a lot to work with. The segmented pieces included: 1.) clean graffiti prints in playful reds, blues and greens, 2.) French-inspired black and white stripes, 3.) soft, yet confident, peaches, pinks and creams – and a whole lot more!
Silhouettes: Much like their color palette, Heatherette's silhouettes are all over the place. For the most part, they are flirty (for the women) and slim (for the men.) Slip dresses with high waists complement Fashion Week's emphasis on the waistline. Heatherette also includes a cinched waist on their wild debutante dresses, which are quite flattering and youthful (some of them are overflowing with feathers.) On the flipside, they still remember that not all women are girly. They provide quirky 60's inspired street wear and bohemian avant-garde garments.
Accessories Report: Standing out from their potpourri of accessories is their chain-adorned handbag – stylish and extremely functional. Oversized circular framed glasses give a bit of quirkiness, while a landslide of novel head wear pieces include fedoras and mime-like berets. For some of their more "formal" attire, simple clutches contrast with busy Chrysler building printed dresses. They also add a couple of Chihuahuas in the mix for some Paris Hilton pizazz.
What's Wearable: All pieces are laden with Heatherette style: unapologetic and impulsive. The primary wearable aspect from this collection is the loud prints. City skylines, "big apples" and music notes give fun concepts for basic screen print tees and graffiti-based garb. In addition, the veritable cornucopia of conceptual street wear ranges from Park Avenue gaudiness to the modishly trashy rock and roller. When pieced apart, there are some things that aren't too costumey. For one, the vests support fashion's current direction. Same goes for the high-waisted dresses and knitted, down home outerwear. Although they are a bit busy, they are wearable.
What's Not Wearable: Some of the debutant dresses are a bit "tacky 80's prom" – same goes with their superfluous use of feathers. Even if Naomi Campbell wore this purple ostrich monstrosity, it was difficult to take seriously. The whimsical nature of Rains and Rich is very appealing, but sometimes it's too convoluted and haphazard – especially with their mixing and matching of Pucci-esque patterns.
Entry Filed under: Men,Runway Reviews,Runway Reviews,Runway Reviews,Trend,Women