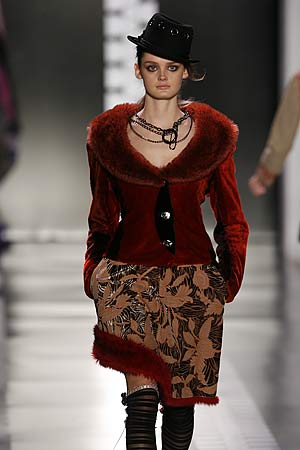 Photo Credit:
NY Metro

Key Takeaways: Brothers Custo and David Dalmau showed a collection of back alley fashions suitable for rebellious hipsters raised with proper etiquette. As expected, layering is in, and the hearty use of fur as an embellishment adds a bit of maturity to a vibrantly youthful collection.

Color Palette: Basic blacks, grays and browns (both light and dark) coincide with fiercely rich reds, blues, purples and greens.
Silhouettes: Relaxed, but not too baggy. The slip-on high-waist dresses fit in a straight flattering line– which conveniently makes for an androgynous complement to the slim, narrow lines on the men's pieces. On the flipside, feminine poise is illustrated via emphasized waists, flowy fabrics, constricted skirts and torso-hugging corsets.
Accessories Report: Printed stockings add a bit of whimsy to the pieces. The thoughtful shrugs, ponchos, mutated boleros and capes are beautifully crafted and give justice to the runway presentation. Different types of hats include outsized fedoras (or are they porkpies?) and the occasional use of varied handbags to add some zest.
What's Wearable: The necklines, both engulfing and modestly plunging, are very appealing. The knit and fall-friendly fabrics are adorned with various graphics that include, but are not limited to, roses, Asian characters, cowgirls and the abominable snowman playing a drum set (at least that's what it looks like). The patchy pieces are very fun and the use of texture in the skirts, pants and tops are very conceptual – but still look good for the average Joe or Jane. Eveningwear is a bit subdued and tangential, but sexy. Overall, the use of old fashioned aesthetics (i.e. knits, ruffles, lace) is mixed well with modern day technique.
What's Not Wearable: The pieces are both strategic and well made, but there is one piece in particular that was a simple eyesore – the hole-in the chest cat suit thing was too bohemian Victorian. It carries an "Interview with a Vampire" theme that is theatrically tacky. The biggest downfall of the piece was the unflattering pair of printed pants (they looked like stretch pants. Once again the mixed patterns began to be too excessive and eventually became less appealing and more epileptic.
1 comment February 10th, 2006